About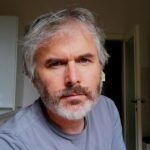 Meet Brian Smyth, an accomplished artist with a remarkable journey through the world of fine art. A graduate of the Crawford College of Art and Design, Brian's talent has earned him numerous accolades and a place in both private and public collections.
His artistic prowess shines through in a series of successful solo exhibitions held in Dublin and London. Brian's work has also graced the walls of various group exhibitions, where he's not only participated but curated, showcasing his eye for artistry.
Beyond exhibitions, Brian's artistry extends to private commissions, where he's brought his talent to life in various projects. Notably, he undertook a significant commission involving 14 captivating paintings for the restoration of a church in his native County Cork, a testament to his deep connection to his roots.
Brian's journey took an intriguing turn when he ventured to The Angel Academy in Florence in 2012. There, he immersed himself in the classical arts, refining his technique and gaining inspiration. His dedication was so profound that he later became an instructor, sharing his expertise through private workshops in portrait painting, plein air landscapes, and masterful reproductions.
Today, Brian continues to evolve as an artist, pushing the boundaries of his craft. His work is represented by prestigious galleries, including The Trinity Gallery, The Lavitt Gallery, The Red Rag Gallery, and Chimera Gallery.
Discover more about Brian Smyth's artistic journey in an exclusive interview on Artospoctive.com. Explore his captivating works and experience the magic of his artistry in galleries worldwide.
. Here an interview with Brian on Artospoctive.com Gallery Representation: The Trinity Gallery – The Lavitt Gallery – The Red Rag Gallery – Chimera Gallery